Welcome to Armada Middle School

Our Mission
Fostering creativity and providing meaningful connections through risk-taking, new technologies, and unrivaled experiences in a unique atmosphere.
Our Vision
Creating an environment that is innovative, supportive and unparalleled for students of an ever-changing tomorrow.
Principal: Todd Schafer
Assistant Principal: Amanda Parus



School Hours:
7:25 AM - 2:22 PM
Half Day Schedule:
7:25 AM - 11:22 AM
Armada Middle School
23550 Armada Center Road
Armada, MI 48005
Phone: (586) 784-2500
Attendance: (586) 784-2501
Fax: (586) 784-8650
Please click the "More..." button for a list of fun summer activities.
Join us this summer for some awesome opportunities! Broaden your horizons with something new or spend some time preparing for your upcoming classes with the help and support of teachers and classmates. Click for more information and to browse the offerings.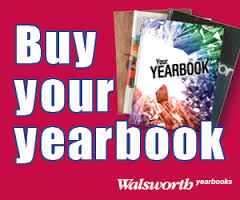 Middle School Yearbooks
The AMS yearbooks will be sent home with students on Friday, May 27. There are just a few extras and are available for $42 (cash only) until they run out.