Welcome to

Armada Area Schools

It is the mission of the Armada Area School District to provide all students a dynamic learning environment in order to cultivate a mindset for academic excellence and social growth.
District News
May 8, 2023
Thank you!
On behalf of the Board of Education, I thank the Armada Area Schools' voters.
Approval of the bond proposal will improve safety, update and renovate educational
facilities across the school district, and protect the community's investment in its
schools.
Approval of the sinking fund will support small-scale, ongoing maintenance projects
throughout the school district.
In the coming months, we will keep the community informed as we move forward with
the bond proposal and sinking fund proposal projects.
Again, I am grateful to the parents, students, and other members of the community who
helped us inform people about the bond proposal and sinking fund.
Thank you for your continued support!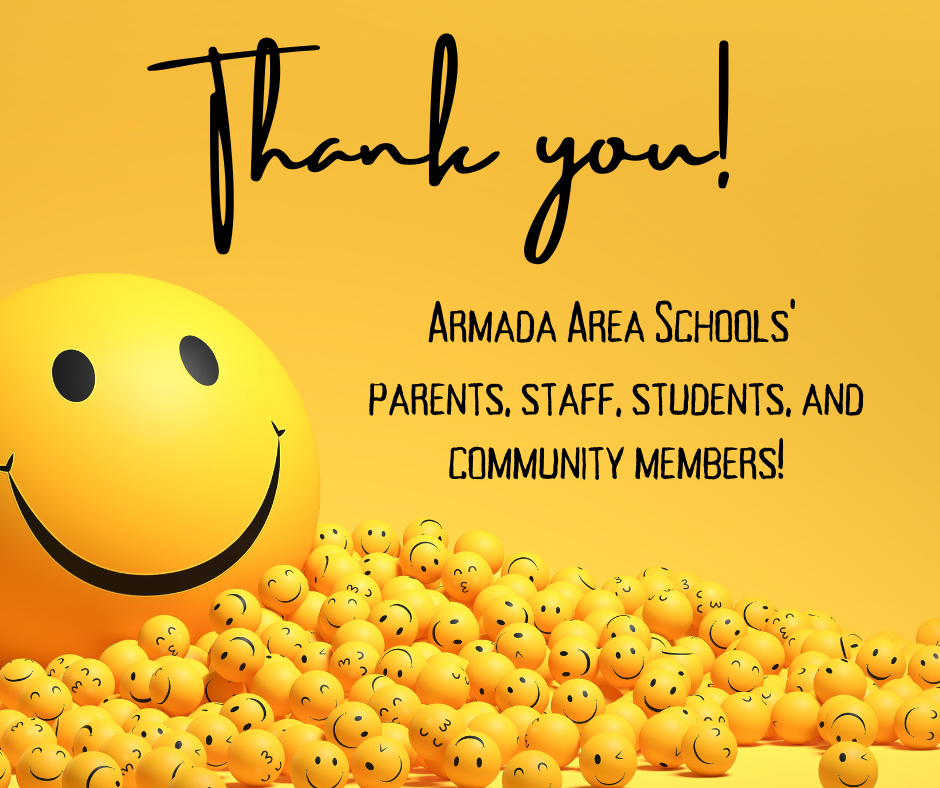 Calendar
Calendar

Previous

June

2023

Next

S
M
T
W
T
F
S
1
2
3
4
5

Jun 5

1/2 Day all students - HS Exams

Calendar:

District Calendar (Public)

6

Jun 6

1/2 Day all students - HS Exams - HS, MS, Elem Records, Last day of School

Calendar:

District Calendar (Public)

7
8
9
10
11
12
13
14
15
16
17
18
19
20
21
22
23
24
25
26
27
28
29
30
LETTERS TO FAMILIES:
BOARD MEETINGS AND NOTICES: