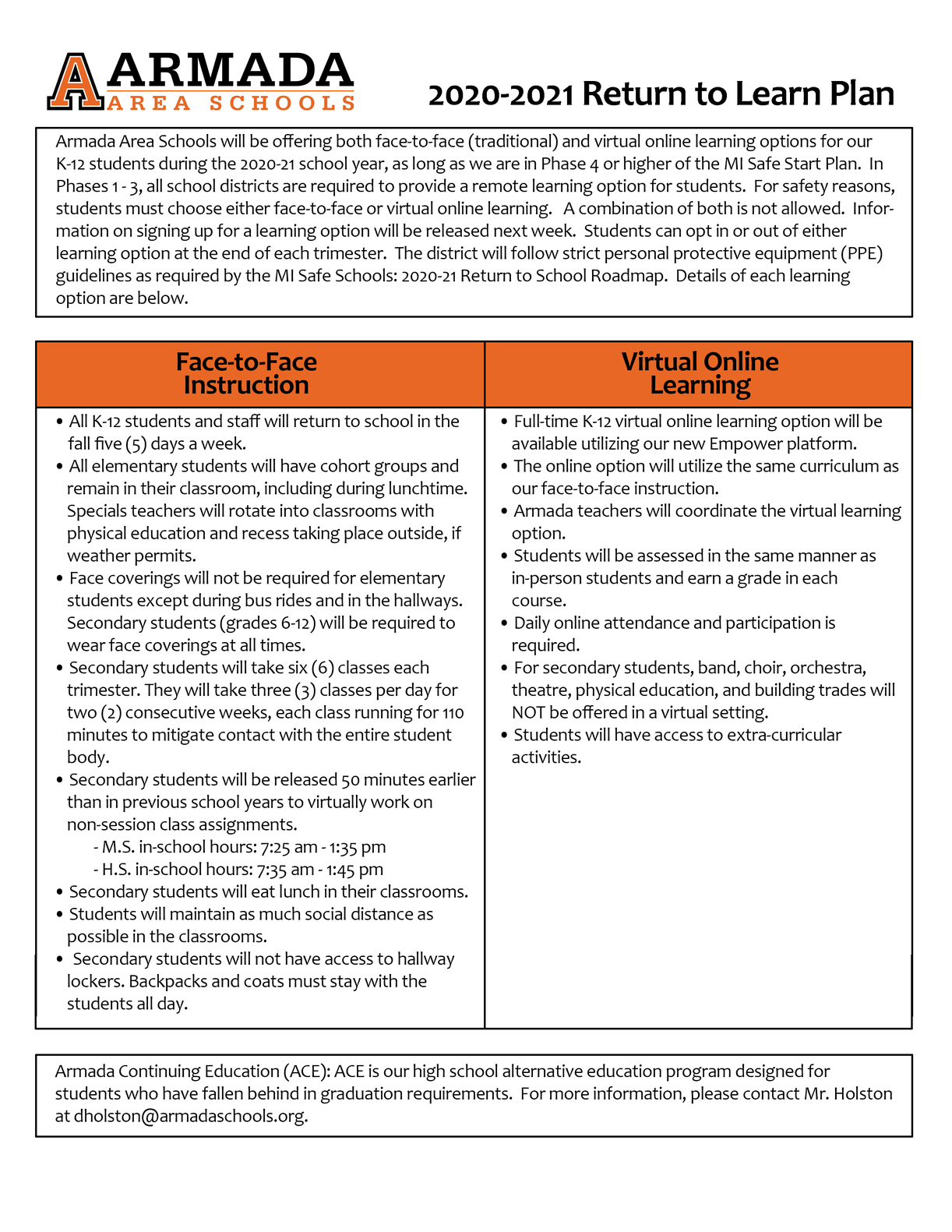 Welcome to Krause Elementary School
Our Mission:
At Krause Elementary we establish high standards and support learning for all in a caring environment.
Principal: Kurt Sutton
Assistant Principal: Pam Lillie
School Hours
8:40 AM - 3:38 PM
Half Day Schedule
8:40 AM - 12:06 PM
Office Hours:
8:00 a.m. - 4:00 p.m.
Address:
Orville C. Krause Elementary School
23900 Armada Center Road
Armada, Michigan 48005
Phone: (586) 784-2600
Fax: (586) 784-9147
Attendance Line: (586) 784-2601
Transportation: (586) 784-2585
Congratulations Mrs. Cmarik!
Congratulations to our science teacher Mrs. Cmarik on being honored with the Elementary Teacher of the Year Award!
Office Phone Numbers
Now that we are one elementary the numbers in the office have changed. The old numbers 784-2640 and 784-2641 are no longer in service as a result. The office may be contacted at 784-2600 and the attendance line is 784-2601. Please update your contact lists!
Upcoming Events
Kindergarten Registration for the 2021-2022 School Year Tuesday - March 9, 2021 4:00pm-4:30pm—Last names beginning with A-G 4:30pm-5:00pm—Last names beginning with H-N 5:00pm-5:30pm—Last names beginning with O-S 5:30pm-6:00pm—Last names beginning with T-Z Krause Elementary Cafeteria (Parents only—no children) Registration packets will be available starting Friday - February 5, 2021 at Krause Elementary School or online at www.armadaschools.org/Krause Elementary Those parents that turn in a completed registration packet will receive a FREE School Ready Kit for their child. Registration packets will be available starting February 21st at the Krause Elementary school or online at www.armadaschools.org/Krause Elementary