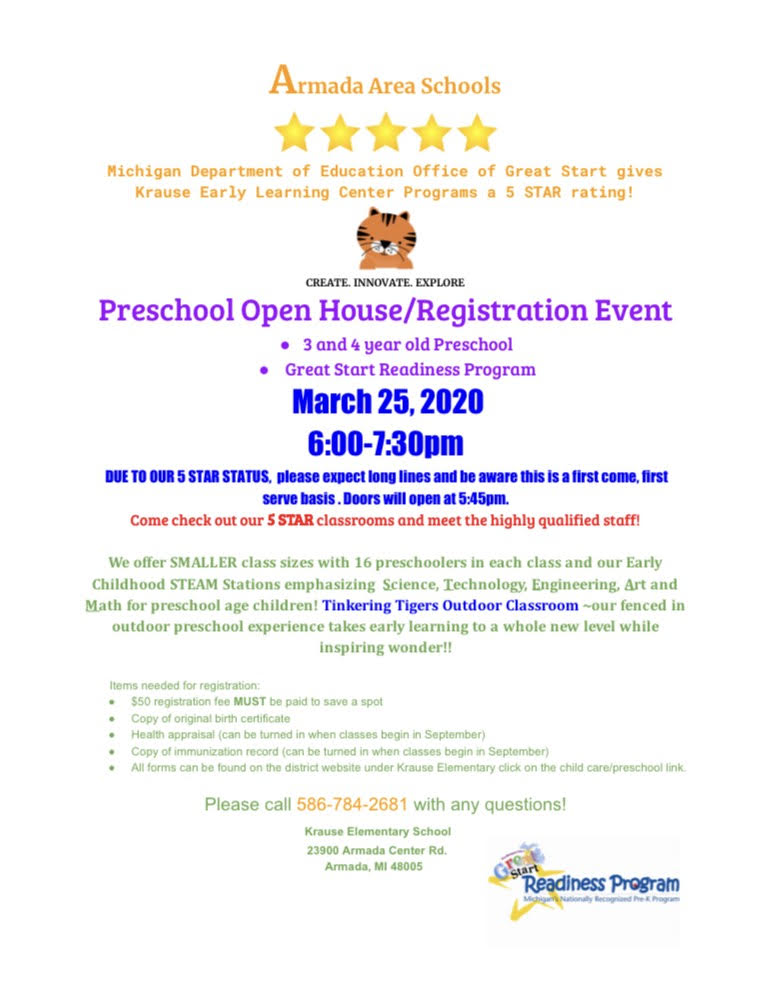 Tuition Based Preschool Programs and the Great Start Readiness Program
Our Great Start Readiness Preschool and 4 year old tuition based preschool programs use The Connect 4 Learning curriculum while our 3 year old preschool program uses The Creative Curriculum. All preschool classes place an emphasis on S.T.E.A.M. (Science, Technology, Engineering, Art and Math) to promote innovative thinking in our young learners. We offer a literacy rich program which includes oral language development, rhyme, writing, and phonemic awareness. We believe children learn through play and hands-on experiences. We place an enormous value on the role of the environment as a motivating force for creative learning. Each preschool classroom environment is equipped with these interest areas: dramatic play, blocks, art, sand/water sensory table, math manipulatives/puzzles and games, music and movement, library, science and STEAM stations. Outdoor play time, technology and cooking activities are included in our daily schedules. We recognize class size is another crucial factor in educating young children. Our preschool classes will not exceed 16 children in each classroom or a ratio of 1 adult to 8 children. Smaller class sizes means we are able to provide more individualized attention to our preschoolers during our small group times and throughout our preschool day.
3 year old preschool options:
2 day~ Tuesday/Thursday 8:45-11:45pm
3 day~Monday/ Wednesday/ Friday 8:45-11:45am
3 day~ Monday/Wednesday/Friday 12:30-3:30pm
4 year old preschool options:
5 day~Monday-Friday 8:45-11:45am
3 day~ Monday/Wednesday/Friday 12:30-3:30pm
Great Start Readiness Program:
Must be 4 years old before September 1, 2020
Monday-Thursdays 8:40-3:30pm this program includes: Breakfast, Lunch and Snack
Our School Age Child Care (S.A.C.C.) Program is a planned program of activities for our children joining us before and after school.
If you are interested in a tour of our program you may contact Katie Bruyneel (Director) @ 586-784-2681